Looking for ways to have fun, save money and try something new this Christmas?
'Tis the season to celebrate, and often the most sustainable choice is also the cheapest! Making the most of what you have, getting creative and not wasting a scrap! If you're looking for a way to create Christmas magic without a huge price tag, we've got some ideas.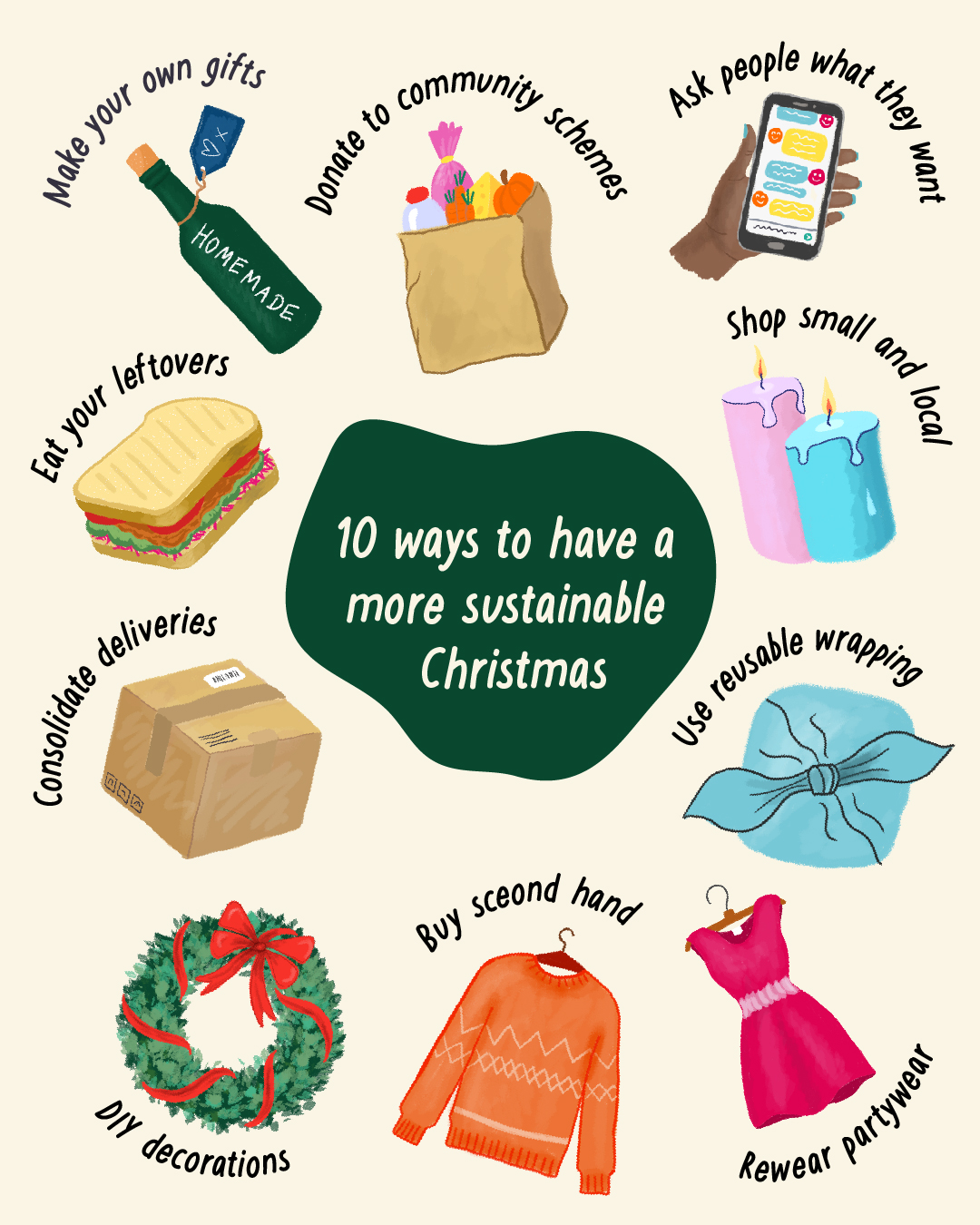 1) Eat your leftovers!
We throw away a whopping 270,000 tonnes* of food during Christmas including 2 million turkeys and 74 million mince pies**. Make the most of your food this festive season by planning what you need before time and making sure you save up your leftovers. They'll keep in the freezer or you can munch on them in the potato filled limbo between Christmas and New Years Eve. 
2) Buy secondhand
With so many brilliant secondhand spaces like Ebay, Depop or even Facebook marketplace there is a huge amount of choice in quality second hand gifts. Shopping second hand can get you one of a kind pressies at a fraction of what you'd spend in a last-minute shopping spree. 
3) Make your own gifts
Giving homemade gifts is a beautiful way to show someone you care (and show off your new skills). We love homemade preserves like Kimchi and oils which are super easy to make. Check out these 5 edible thrifty gift ideas.
4) DIY decorations
When it comes to decorations you can never go wrong with the trusty box stuffed in the attic or under your bed with festive decorations of Christmas' gone by. If you want to try something a little different this year, dried orange slices and cinnamon tied together on a string make for unbeatable decorations that smell great and come without any plastic or waste. For more inspiration, check out our sustainable decoration tips. 
5) Shop for the person you're buying for
This is a golden gift giving rule, to make sure your present is well used and well loved try to find something you know the person will really like and if you're not sure, ask them to point you in the right direction.
6) Love local
If you do want to buy something new see if you can support local and independent businesses in Manchester who need our help more than ever this year. From books to jewellery you'll be surprised what you can find locally, if you can't get out to the shops try going to Etsy and filtering gifts for 'handmade in the UK'.
7) Be savvy with online orders
With people less likely to hit the shops this year, we're likely to be doing more of our shopping online for food and presents. Try consolidating your orders: keep a list of things you need to buy and purchase in one go. Choose click and collect options where possible to reduce air pollution from the amount of time delivery vehicles spend on the road. Make sure you recycle or repurpose packaging when you can to reduce waste. 
8) Ditch the wrapping paper
Paper wrapping can be difficult to recycle especially if it's glitter or shiny. A great alternative is brown paper which you can jazz up with potato prints and string or give fabric wrapping a go. Furoshiki is the Japanese art of fabric wrapping which inspired companies like The Fabric Wrapping Company who sell beautiful fabrics and show you how you can wrap them. You can also use scrap fabrics and scarves if you have some at home! 
9) Give back to your community
If this year has shown us anything it's how important our community and the people who keep it going are. Give back this year by donating to your local community fridge, donating your old phone to help people who are digitally isolated at part of Hubbub's Community Calling Campaign or supporting a local charity. 
10) Rediscover your own wardrobe
Give your favourite outfits a replay this year and wear your favourite festive outfits again instead of buying something new. If nothing in your wardrobe is singing to you try swapping with friends or family for a brand new look without spending anything. Look on rental platforms or second hand sites if you need inspiration from further afield.
We hope you have a wonderful holiday and we look forward to seeing you next year! 
The In Our Nature team x